In this list you will find 5 of the most popular footwear stores at discounted prices!
Autumn is finally here and it is the best time to hit the mall for a new pair of shoes! However, this year you will have to spend less! Hereby you can find five discount codes for the most popular footwear stores such as Deichmann and Converse. Whether you want a new pair of black converse shoes or some winter boots, these discounts will make your shopping more affordable. Even if these five footwear stores aren't your favorite brands, there is at least one store on the "Shoes Stores Category"  in our site where you can find something that you do like.
1. Foot Locker
If you are looking for some fresh new kicks, then Foot Locker is the place for you! This store has all sorts of shoes that will look great with any outfit. Whether you want to buy Adidas, Nike, or Puma shoes, they have it all! Foot Locker is the world's largest athletic footwear and clothing shop, with over 2500 locations worldwide. Because of its strong relationships with the ultimate top brands, they will always supply you with the greatest, most exclusive product lines available. At Foot Locker, Sneakers are all they can think about, and nothing makes them happier than keeping their fans up to date on the current trends, as they say. Whether you're a long-time sneakerhead or just looking for a new pair of sneakers, Foot Locker has you covered from the ground up. Make sure to check our site for great voucher codes and deals as well as for free shipping at your purchases at Foot Locker.

2. Deichmann
Deichmann is the place to go if you want to look fresh and chic. It has a large range of shoes for all age groups and may have the most extensive selection on the market. Deichmann not only provides excellent value for money, but it is also quick to bring out the current fashion trends. Its fashion scouts are always on the lookout for the latest trends and work fast to incorporate them into their collections. In our site you can find lots of promo codes for discounted prices as well as free delivery vouchers for Deichmann.

3. Camper
Camper is a modern footwear brand based on the Spanish island of Mallorca. It is a family business founded in 1975 with a strong shoemaking tradition that it utilises to produce distinctive designs. Camper aims to recreate some of its iconic themes each season while continuing to push the status quo with fresh & creative designs. As they state, they frequently discover that there is a Camper style for everyone. Grab now a 10% Off coupon in our site for your First Order at Camper.


4. Converse
Converse has been manufacturing Chuck Taylor All Star & One Star sneakers for almost a century, and it is currently working to create new street style classics. What you wear defines sport, street, and creative culture, and they've been redefining it with you the whole time. By just being yourself when you wear Converse items, you establish a culture of real street style. By redeeming the discount codes available in our site you can expect to save 15% off your entire purchase at Converse.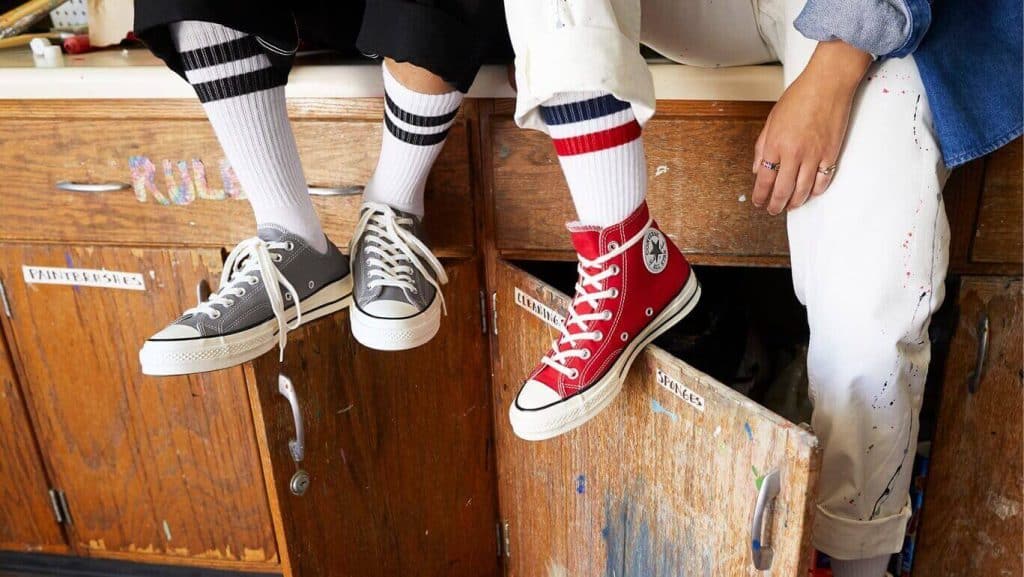 5. Shoes for Crews
Shoes For Crews was started in 1984 by Stanley Smith and Matt Smith, who were creating a modest range of footwear for nurses out of their family flat at the time. One of their contacts emphasized the necessity for shoes to "grab" the slick restaurant floors. The Smiths took this concept and went with it, collaborating with a rubber technology professor to produce the first line of slip-resistant footwear. Shoes For Crews have been designing and manufacturing shoes that keep you safe in the most treacherous situations for over 30 years. Independent lab testing show that their proprietary SFC Mighty Grip is effective. You can now get yours with a 10% off voucher & free delivery coupon.


We are sure that in the footwear stores listed above you'll find your favourite shoes at discounted prices. Also, keep in mind that in the "All Categories" page of our site you can find lots of discount coupons for thousands of stores. So, grab your promo code at Couponlike.co.uk now and save big money!